Reaction Drag is a game made for testing your reaction time in a realistic drag racing situation. Originally developed for the F1 in Schools Competition, the game has evolved into much more than that. After many BETA versions, the game is at its first release, with amazing realistic graphics and 3 mind blowing vs Computer levels, and a Human vs Human level that puts you one on one in a race to finish number one. Reaction Drag was designed by Josh Phelps in the Technology Systems class at Indian Creek High School.
CLICK HERE TO DOWNLOAD WINDOWS VERSION *
CLICK HERE TO DOWNLOAD OSX VERSION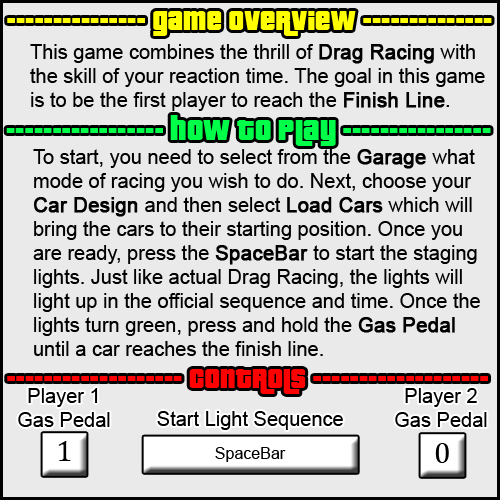 * Note - the Windows version has some issues involving the screen disappearing during the staging of the lights. In spite of this known issue, the Windows version can still be used to test your reaction time. Also note that the Windows version requires you to use the 's' key instead of the space bar to begin.
Last Updated 5/22/09